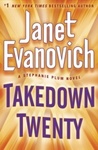 Takedown Twenty
by
Janet Evanovich
My rating:
3 of 5 stars
It's understandable that after cranking these (and many other offerings!) out at an amazing pace, the quality of JE's writing should flag at times, but this effort was solidly in the "okay" range. Grandma and Lola were pretty funny but not over-the-top ridiculous, and the plot had some coherence, though I wonder how long the Joe/Ranger conflict can continue without making Stephanie clearly unethical and flat-out unfaithful--she's right on the edge now. All in all, an entertaining beach read.
Delancey: A Man, a Woman, a Restaurant, a Marriage
by
Molly Wizenberg
My rating:
4 of 5 stars
I like Molly Wizenberg's Orangette blog, and I was delighted to see this book in the Ridgefield Library. I might buy it, because I like a lot of the recipes--both for weird experiments (gin with ground pepper and garlic?) and for plain ol' "that sounds great!" meals (penne alla vodka). The story of the ins and outs of starting the restaurant was engrossing, too, and the progress of her relationship with and understanding of her husband caught my attention as well, though Julie did not find the book interesting at all. One aspect I noted with respect was that she discussed various people who entered their lives through the restaurant process, and it was really hard to tell if they would be friends, foes, betrayers, or loyal supporters: her tone was always level and respectful, an approach that I find difficult in my own life and in much public discourse today.
Recommended (though Julie disagrees!) as an interesting resource and a good story, though I am surprised that it's a NYT bestseller. Doesn't seem jazzy enough. Maybe a lot of people want to open restaurants and find this book, as I do, a good replacement!
Food Rules: An Eater's Manual
by
Michael Pollan
My rating:
5 of 5 stars
Okay: amazing is over-the-top for this little book (booklet, maybe?), but I really liked its zippy format, its straightforward advice, and its clear diction. It was another 25 cent investment at our neighbor's yard sale, and I've shared it with Michael (it is his "I've read one book!" book already) and we both thought it was enlightening and funny.
Anyone who's hoping? trying? to "eat better" should read this book--preferably a copy picked up for 25 cents at a yard sale!
View all my reviews